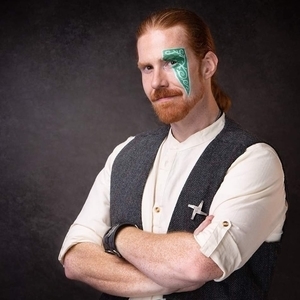 Daniel GreenWolf
Special guest
Daniel GreenWolf is an Award-winning Magician, writer, creator, & slightly mad Irishman. He's also a pagan, pansexual, polyamorist who's been in his longest running polyamorous relationship for six and a half years, and he's an outspoken advocate for polyamory as well as an amazing performer.
You can find his podcast, the GreenWolf Podcast, at GreenWolfCast.Libsyn.com.
Daniel GreenWolf has been a guest on 3 episodes.
August 15th, 2020 | Season 1 | 44 mins 26 secs

communication, compersion, jealousy, relationship style

Laura talks with her metamours Daniel and Vanessa about the spectrum of Kitchen Table to Parallel polyamorous relationship and they offer their different perspectives on whether any kind of relationship should be "goals"

July 25th, 2020 | Season 1 | 41 mins 48 secs

ambiamory, communication, monogamy, non-monogamy, polyamory, relationship

Laura and her friend Olivia discuss Ambiamory, the ability to go between polyamory and monogamy as a matter of choice rather than orientation.

June 27th, 2020 | Season 1 | 38 mins 59 secs

polyamory, relationship structure, triad

Polyamorous triads are an occasionally contentious topic within the community because they're many people's entry point in but often also challenging - and, as people's entry point, much like high school sweethearts, it often doesn't work out, but for a select few it does. Today's guest is one of those select few.