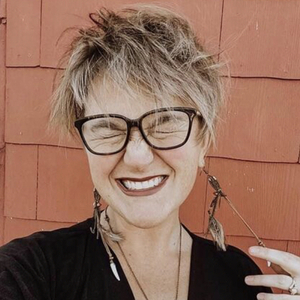 Jessica Levity Daylover
Special guest
Jessica Levity Daylover is a mom of two who has been with her husband, Joe, since 2009, and married and polyamorous since 2013. Jessica is a live event and digital media producer and entertainer. Their journey into polyamory was rocky because they had no mentors, no cultural script, and no support. They launched their podcast & platform "Remodeled" as a way to change that path for others.
Jes and Remodeled Love are on all the social media - you can find her on IG @remodeledlove, on TikTok @homesliceproductions, on Twitter @RemodeledLove, on Patreon at www.patreon.com/homesliceproductions, or find her podcast, peer support, and upcoming projects at www.remodeledlove.com.
Jessica Levity Daylover has been a guest on 1 episode.
April 7th, 2022 | Season 5 | 53 mins 50 secs

kitchen table, parenting, polyamorous, polyamory, relationship

In an episode that just scratches the surface of this rich topic, Laura and Jessica Levity Daylover of Remodeled Love sit down to discuss the challenges and joys of being polyamorous parents.