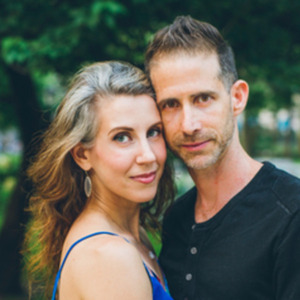 Shai and Lea
Special guest
Shai and Lea are considered two of the go-to people for ethical non-monogamy education. They've built a worldwide brand that includes both a Free and Membership Based Community, Dating, Events, Education & Coaching. They are creators of the Secure Poly Collective™, a heart-centered support program for conscious open relating with exclusive events each month, coaching with the best in the industry, and an array of tools and resources.
Their mission is to help partners thrive, not just survive, in conscious open relationships using their signature Eco-Amory™ philosophy.
When Shai and Lea started their polyamorous relationship, they were unclear on the many facets of open relating, so they struggled! But with 5 years they amassed a wealth of knowledge, both through research and personal experience, and grew a strong desire to help others.
What differentiates Lea and Shai in their teachings is that they see conscious non- monogamy as a vehicle for deep healing and personal growth.
The social media section only has space for one set of handles, so here's all of them in a list as well as the little icons for some:
Shai's Instagram | @shai_the_poly_guy
Shai TikTok | @shaithepolyguy
Lea Instagram | @lea.aella
Our Facebook Community | Leveled Up Love: Polyamory Resources For More Secure Open Relationships
Shai and Lea has been a guest on 1 episode.
April 21st, 2022 | Season 5 | 41 mins 55 secs

hierarchy, nonhierarchical, nonmonogamy, polyamory, relationship anarchy

Laura sits down with Shai and Lea of Leveled Up Love to discuss how changes in relationship structure are common throughout folks' polyamorous journeys and destigmatizing that can be important to helping people find comfortable balance in their relationships.