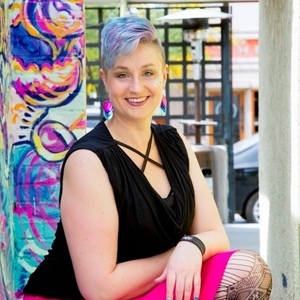 Dr. Liz Powell
Special guest
Dr. Liz is a sex educator, therapist, speaker, and popular podcast guest who works with singles, couples, and polycules across the sexual spectra to improve their lives - including the sexual portions of them. They work with anyone who wants to cultivate healthy, consent-driven, and autonomy-focused relationships, although non-monogamists, non-binary folx, kinksters, and queerdos are a special focus. You can learn more about their therapy practice (licensed in CA and OR) and coaching at their site, become a backer of their Patreon for early access and exclusive content at their Patreon at https://www.patreon.com/drliz, buy their book "Building Open Relationships" here or follow their social media for more information on their future work.
This January they're leading an six part series on going into the New Year treating ourselves well with self-love for our present beings, instead of beating our bodies up with diet and exercise resolutions for a future self. You can sign up at https://drlizpowell.com/product/2582/
Dr. Liz Powell has been a guest on 1 episode.
January 2nd, 2021 | Season 1 | 56 mins 20 secs

Dr. Liz Powell and Laura discuss Prescriptive, Descriptive, and Sneaky Hierarchies - as well as a bunch of jokes, sight gags, Dr. Liz's New Year's Project, and how fear and trauma intersect with hierarchy and rules.